Tonya's 40th birthday is tomorrow. I'm not going to lie, the poor thing really gets gypped that her birthday is so close to Christmas. Normally, it's a "Oh yeah, Happy Birthday Tonya" on Christmas Eve with her birthday present wrapped in Christmas wrapping paper. But this year, being her 40th, we had to do something more and especially with everything she's gone through this year with her
breast cancer
, birthdays are definitely more cherished and savored.
The night started with a casual dinner with the fam. And you know it ain't a birthday until sugar is involved.
And boy do my boys know how to finish off a cupcake...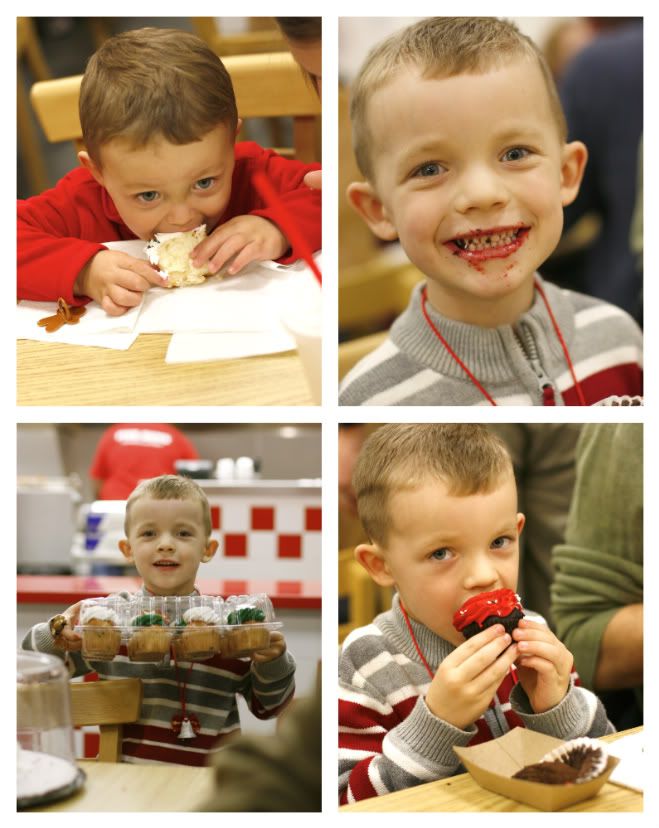 Our next plan was for the family to ride a carriage downtown and look at Christmas lights. This part was a surprise for Tonya. And if we want it to be a surprise from Tonya that means it has to be a surprise from our boys or someone might spill the beans. This is Nolan's face when I told him what we were doing next. Another case in point that my boys can rock a
good excited
.
We were all bundled up and it was so much fun looking at all the lights and feeling the magic of Christmas. And to top it off, my brother, Bo, came in town and celebrated with us.
It's a good thing is was such a huge carriage with our big fam!
And I'm not sure if it was because it was the spirit of Christmas or the happiness in our hearts about Tonya's birthday, but every twinkle of the lights made my heart do a little happy dance. It was such a special moment in more ways than one.
And let's face it, it was the best thing ever.