It's official, summer is over. The first day back was Monday. I've been working in my classroom quite a bit moving and getting it set up, but my first official day was Monday. Since Nolan was almost 4 months old, he's been in the same school as well as Campbell. I think I was more nervous about their move than me moving to another school.
But the first day couldn't not have gone any better. Nolan was so excited that he couldn't fall asleep the night before until after 10:00 (he is SO my child) and he tripped in the hall on the way to his room because he was so excited and walking so fast. In fact, they had Open House and he was upset that he had to wait the whole weekend before he went back.
The backpack was a pretty big deal in this house. Nolan wore it proudly and Campbell wanted one desperately. So he has his own little mini backpack on order. He wore Nolan's at first but it was literally the size of him so we'll have to adapt.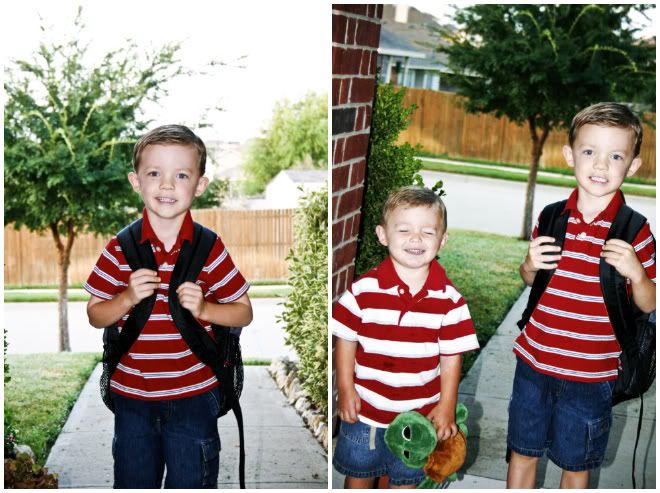 I made sure that we got up in plenty of time just to take a couple of pictures. Campbell's newest smile consists of closing his eyes and saying cheese. Gotta love those awkward smiling years already starting.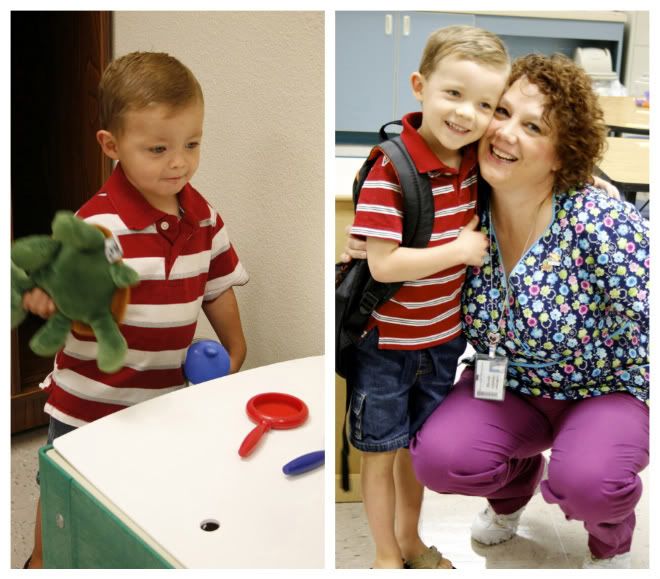 The boys are doing very well with their new teachers and bonding quickly. Nolan barely missed the Kindergarten cutoff being a September baby. In one way, it's hard to believe that he's going to start Kinder next year and be at school with me. On the other hand, I can't believe I'm still paying for daycare for him. I'm thinking, "Are you ever going to start school, kid?" I know that extra year will really help though and those school years will fly by in a second. So I'll just cherish this last year without him in school.
I'm so excited about this upcoming school year. So far, there haven't been any tears during drop off which always helps make my day easier. Now if I can only get Nolan to take a nap at school.