Ok, I'm going to act like this didn't happen back in June and that I'm just now getting to it. Don't judge. Our church had their VBS back in June, as in the first week of summer. I said, don't judge!
The boys loved it, especially Nolan. The theme was Journey to the Congo and he had a passport that he had stamped everyday, and Justin and I even helped with the arts and crafts! I never realized that 20 minutes either goes by in two seconds or takes months depending on what age group you're working with! Yet another reason I teach 5th grade.
To finish up the week, we had a Spring Fling that Saturday. There was a 5K that I missed due to lack of sleep. I had been studying all week to pass my teacher certification, doing VBS, and of course being a mom. So once again, don't judge. I made it to watch the firemen come and show the boys their truck. They loved every minute of it except the siren. You know my children and loud noises. They can't handle it except they sure seem to do okay with their own noise level.
And it wouldn't be our fashion to see a firetruck without telling them thanks without cookies. This was all of Nolan's doing. I love that he's thoughtful without coaxing. It makes me so proud of his character.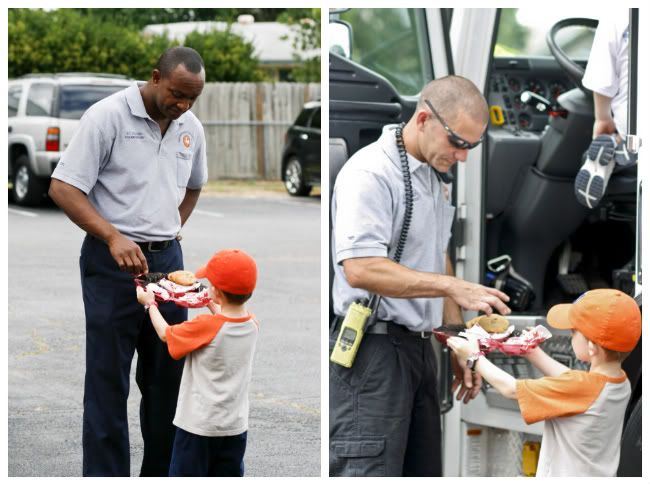 Don't you know that Justin was acting just like the boys. It's fun to see my 36 year old husband still likes to dress up.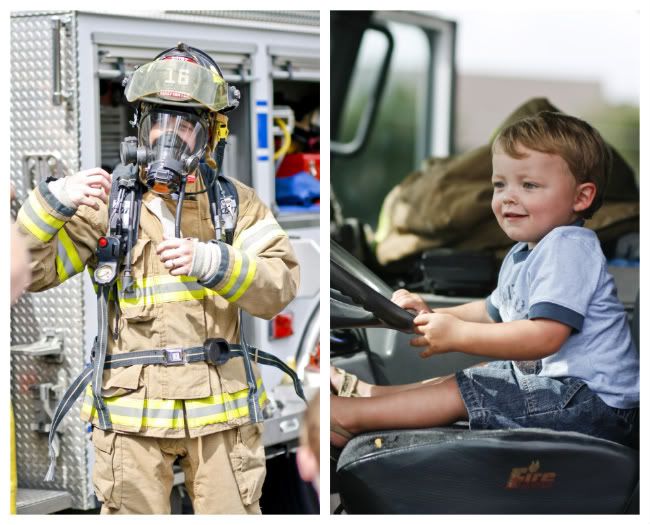 They had a table where kids could plant their own flowers and learn about recycling and composting. By the way, we're officially granola. We're composting at home! Although ever since Justin told me he found maggots in the composting bin (all part of the decomposition process), I've officially designated that as a "Justin" duty.
It was a great week to kick off our summer and I'm so glad that we have such a loving church home.