I don't know what it is about to-do lists. It's another one of those love/hate relationships I have. I hate making them but I love crossing things off and accomplishing my to-do lists. This summer one of my things on my list was to get a hold of my laundry room. It was bad people, real bad. Don't believe me?
I told you. And that horrible shelf was something we put in when we moved in. It had ZERO storage.
For years I never really saw the point of decorating it because…well, because it's a laundry room for goodness sakes. But it's the first room we come in from the garage and the dryer was a huge dumping ground for anything I was carrying when I unloaded the car. The poor mirror hook fell off the wall because of the amount of junk we had hanging on it.
So after a little bit of paint, storage solutions, and sweat, we turned our nasty laundry room into this!
I love our mail station. I just dump our mail in there and then go back when I actually have a chance to go through it all.
We found this cabinet on clearance at Home Depot for $75. I bought the baskets at Hobby Lobby and they are the perfect place to store scarves, gloves and other items that we couldn't find storage for. Justin added the shelf for the laundry basket and it's so nice to keep it there instead of on top of our mini fridge that holds drinks and the overflow from our kitchen fridge.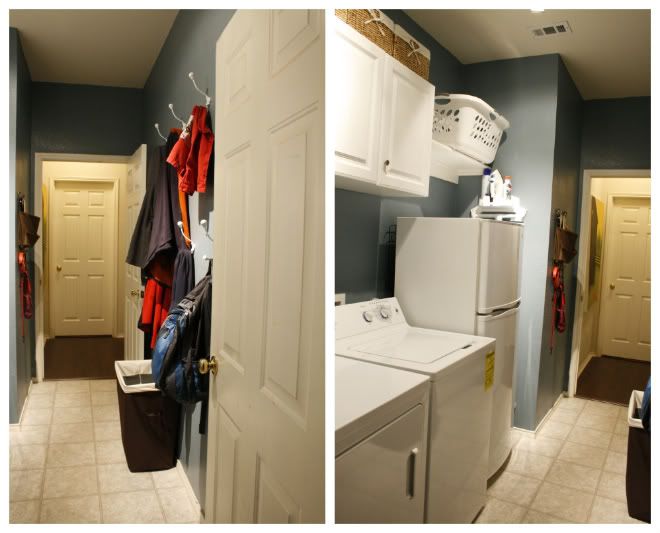 The hooks are so great. They really help keep things organized.
What I love the most I think is the lighting. We decided to try the track lighting and I'm convinced that lighting really does make a room.
I wish that I would have done this years ago. It's so funny how I didn't think laundry rooms mattered. But I think because it is the first and last room we use when we leave, it really did make a mental difference. In my mind, it was a reflection of the chaos in our house.
Next, if I ever get around to it…we changed our dining room into an office/scrap room. I'm in love. Best decision ever. Justin's working on paintings of the boys to put in there so we're not quite done. I'll have to pester him and tell him everyone is dying to see it. :)