You know what's pretty unlucky about this summer and almost every summer in Texas? The first week our a/c went out or almost always goes out. The triple digit heat beats on our little a/c unit and our unit tries its best version of "I think I can" that it can muster but the evil heat always wins.
I'm confident God knew exactly what he was doing putting me in this generation. He knew that I couldn't survive any other prior. This girl needs some electricity and a/c! And to take away any of those while pregnant would definitely fall under the "cruel and unusual punishment" category.
Right now, I sleep with the thinnest t-shirt I can find while still covering at least 80% of my body. Our overhead fan is on high and then I have a personal fan blowing on my face. Justin says that he can see my cheeks flapping in the wind....and that's WITH our a/c working. The night our a/c went out, one thing I knew for sure...I couldn't make it inside all day with the boys. We were out of the house by 9:00 and headed to use our museum pass in a big building full of coolness.
My boys can play in the grocery area for hours and on this day I was just fine with that.
This picture of another set of brothers gave me hope that even in a few years when we want to do the same thing with Landry that they'll still think the museum is cool.
Campbell is one territorial kid when it comes to his shopping basket. And if you even laid eyes on his basket while he was using it, he gave his best stink eye.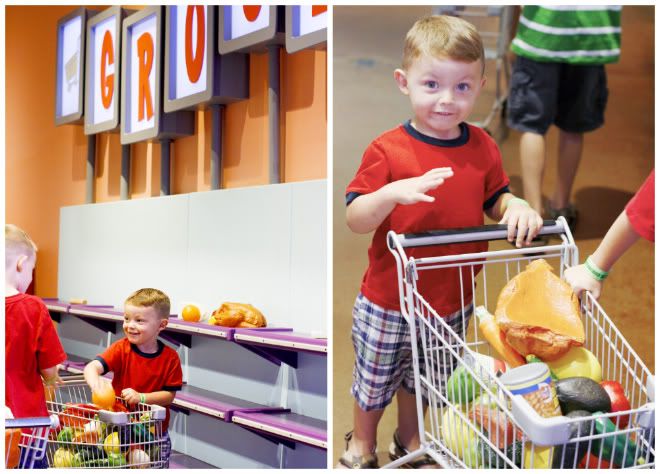 And on this visit, they had a giant Lite-Brite that the boys were digging as much as I did as a kid. I never had one as a kid but I so remember playing with that toy at all my friends' houses who did.
And once Nolan discovered he could make flowers, he was entertained for at least another half hour.
I think we made it over two hours in the museum and they would have kept going but this mama was busting out my best waddle and anytime that's starts happening, I know it's quitting time.
So on this particular day, I'm so grateful that I signed up for a museum pass and NOT a zoo pass.