My title to this post makes me laugh...because there was absolutely nothing "derby" about this rollerskating party. Our friends, Gabe and Andrea, had their daughter's 6th birthday party at a rollerskating rink. Let it be known that I haven't stepped foot in one of those places since middle school.
There are certain memories that are ingrained in my brain from those days. The smell of the rink, how the skates felt like they weighed 20 lbs. each and even the yearning feeling wishing I could be one of those super cool girls that could skate backyards to roller dance with their crush. I even remember that feeling of stepping on the carpet after skating for what seemed like hours and feeling like how forgot how to walk.
I love all things that look like they're made doll-like and toddler rollerskates are no exception. Seriously, I want a pair of these for him to keep, not all the bumps and bruises that go with them....just the skates.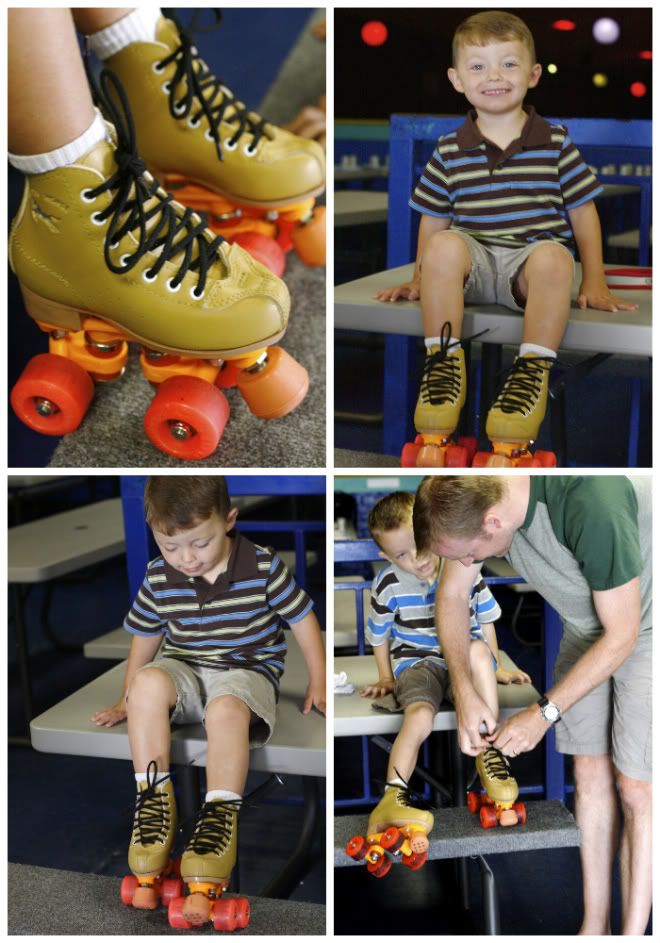 The process of getting shoes laced was only about 10 minutes long per child it seemed.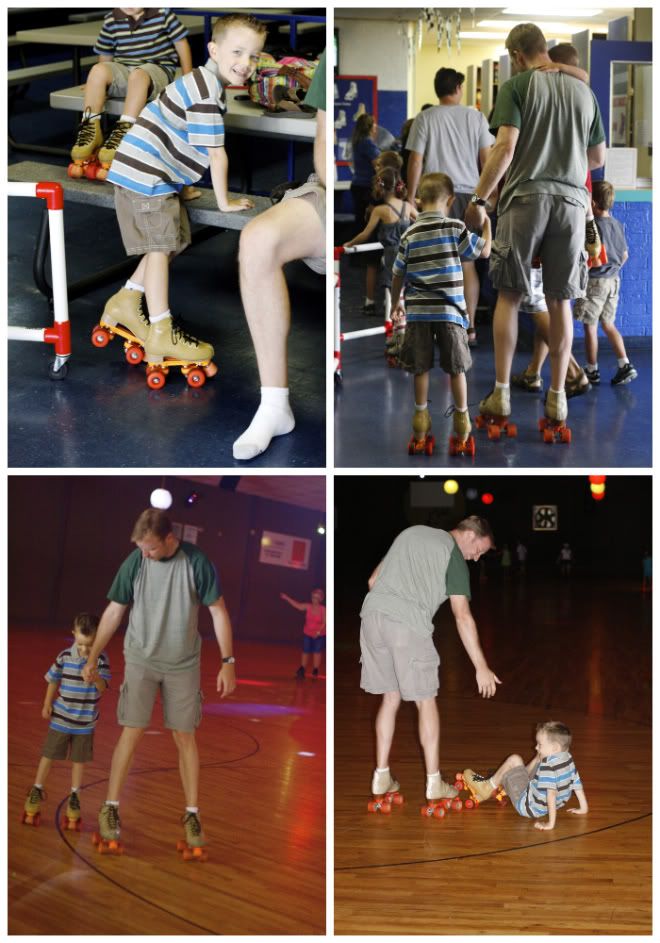 Getting to the rink was even more of a feat and Nolan quickly learned that this rollerskating stuff was not nearly as easy as it looked.
With my lovely lady bump, skating was not in the cards for me although I wanted too so badly but there is not doubt that I would have fallen and busted my rump. So that meant double duty for Justin....poor guy. After one round with Nolan and a round with Campbell that took 10 minutes each, we went straight to the counter and bought a walker. Worth.every.last.penny. Where were these things when I was learning to skate?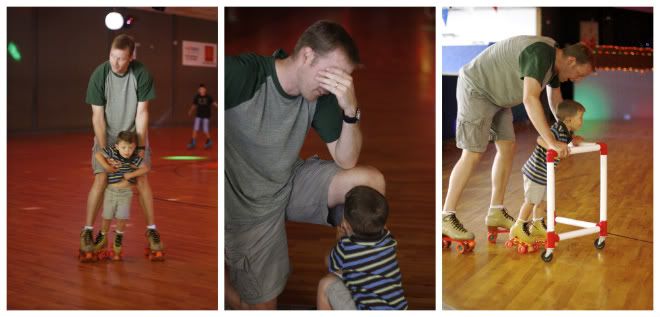 And while Justin would take one for a loop, the other would keep me company. And after many-a-toe-smooshings, sitting was the best option.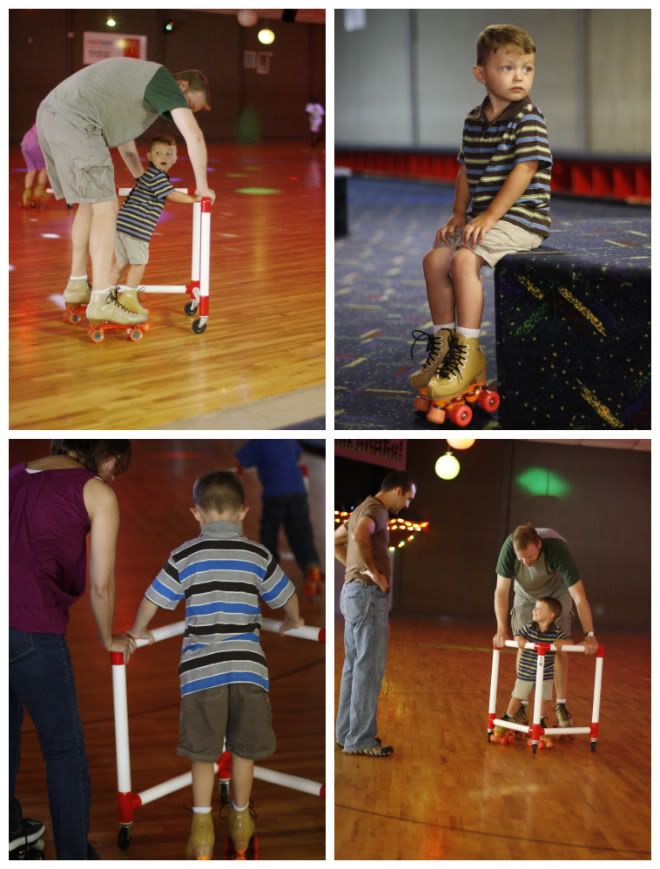 We learned really quickly carpet was safe (mostly), using a walker, and sometimes just getting hauled like a sack of potatoes was the quickest mode of transportation with the least amount of injuries.
Pretty soon, all the moms and dads were really digging the walkers....so were all of our backs and sore muscles.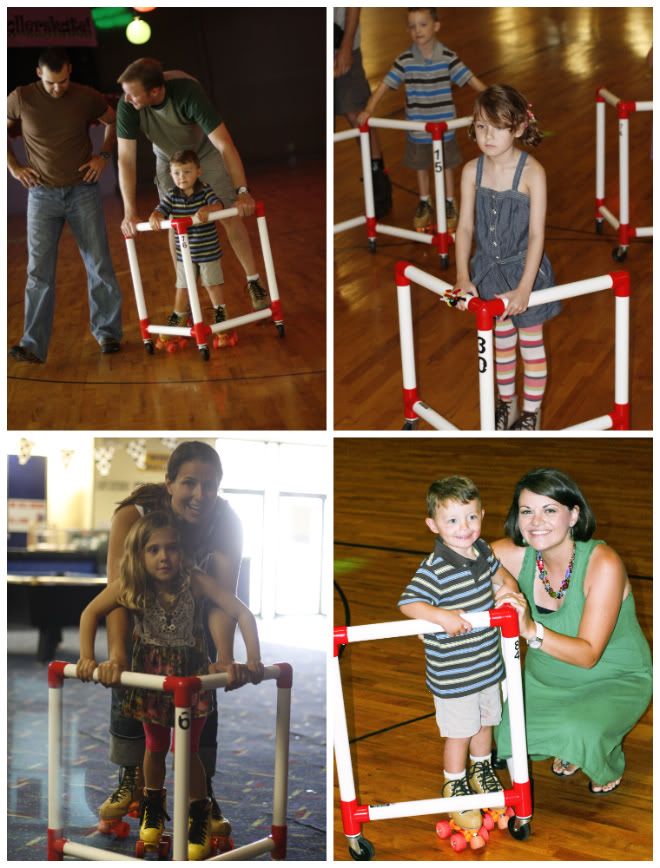 Of course Nolan now wants a roller skating party. He switches every other day between roller skating, a gymnastics party and a pumpkin party. By the time his birthday rolls around, Landry will be here so maybe I can make a fool of myself and try to skate backwards with my grown up crush, Justin.