Seriously, have you ever seen anyone look this beautiful going through chemotherapy? My sister, Tonya, makes this beating cancer thing look like a piece of cake. The cancer center that she's been going to gave her some wigs, but she said that they made her head itch and it was like wearing an electric blanket on her head it trapped so much heat.
Well, her amazing (I really mean
amazing
) best friend, Sheri, got her this adorable sassy wig. It's perfect for her. Sheri takes her to her chemo treatments, raises money for her, makes her laugh til she literally almost wets her pants.
She still sports the 'do rag look when she feels like it but loves having the option to sport her wig.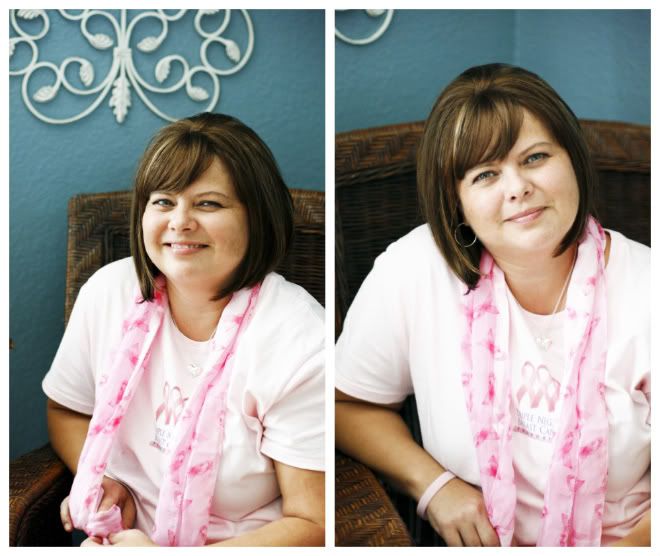 Sure, she has her bad days as do I. Days when she can hardly get out of bed. Days when we've had family outings where one of us has to drive her home because she doesn't have the strength to drive. Days when the steroids make her feel like she has the temper of the Incredible Hulk, but she has handled this treatment with such dignity and strength and perseverance. She absolutely amazes me.
And as if her girls don't already look exactly like her enough...
As for an update, two good bits of news...
1. We found out that her cancer is not a genetic cancer. This is a huge sigh of relief for her girls, her other half-sister, and me! Don't think I'll dismiss this though. I'm going to the doctor to discuss what all this means for me in a couple of weeks.
2. The lump in her breast is shrinking! The doctor and even Tonya can tell just by feeling it. This was the largest of all the tumors so the doctor feels that if this is shrinking that chances are the tumors on her lungs which were much smaller are shrinking as well. We don't know anything for sure yet because she has two more weeks of chemo before they run more tests.
The worry still gets the best of me sometimes. I hate that we live 45 minutes away. I always feel like I'm not doing enough, not seeing her enough. The balance of starting at a new school, being a mom, working full time, being a wife, and being there for her make me feel like I'm doing all of it but a crappy job at all of them. I wish I could do more. I wish I see her more. God willing after this first round of chemo, we'll get more good news and my wish will come true.
Keep those prayers coming!