In July, we were able to go on our original plan of a babymoon...one last trip before baby comes. In May, we got super lucky and got another trip out of the deal and went to
Santa Ana
. This time our trip was to Santa Barbara.
What I loved about this lucky deal we somehow squeaked out, is that since we already went to California for a short weekend trip in May, we already knew some places that we wanted to revisit and knew that we'd be within driving distance. But we first enjoyed everything about the overcast day. It seems crazy to enjoy an overcast day but now that we're on day 34 of triple digit heat here with no end in sight, an overcast day was exactly what we needed.
We stayed an hour outside of Santa Barbara but it was great because it allowed us to be right smack in the middle of the two places we wanted to visit.
On one of our day trips to Santa Barbara, we took a couple of hours to walk along the beach.
Why yes, Texas friends, I was actually wearing jeans and a long sleeve shirt in JULY! The high was 68 that day and my jacket even made an appearance a few times.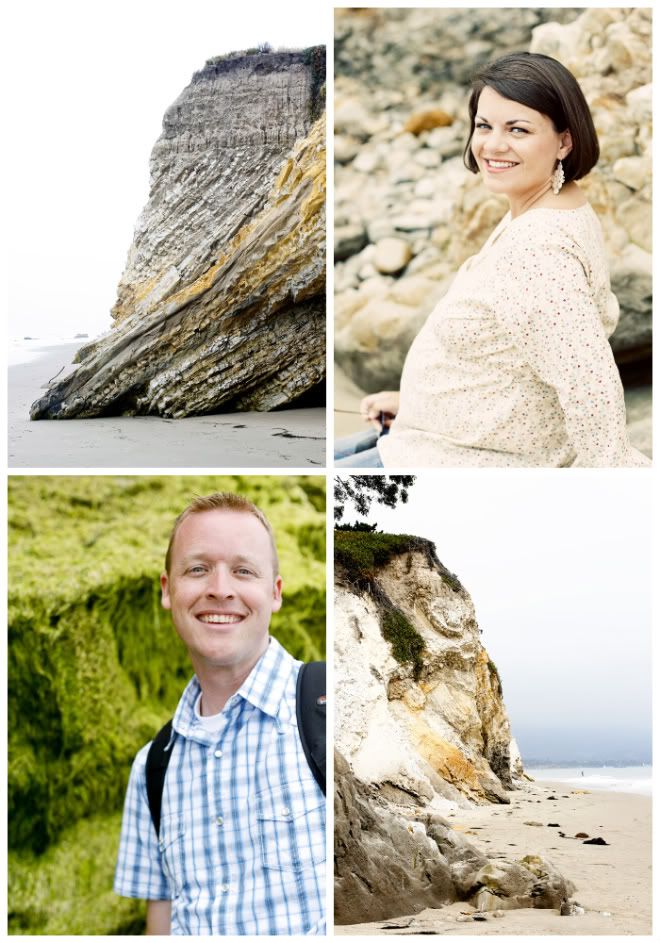 My back was absolutely killing me this particular day but I made myself just sit down and enjoy the view. The ocean air, cool temps and the amazing view helped me get through the pain.
Along our walk we found some surf schooling taking place. What must it be like to live in a place where this is offered. That's how they roll in California.
It was pretty painful walking up these stairs but it was worth every ache.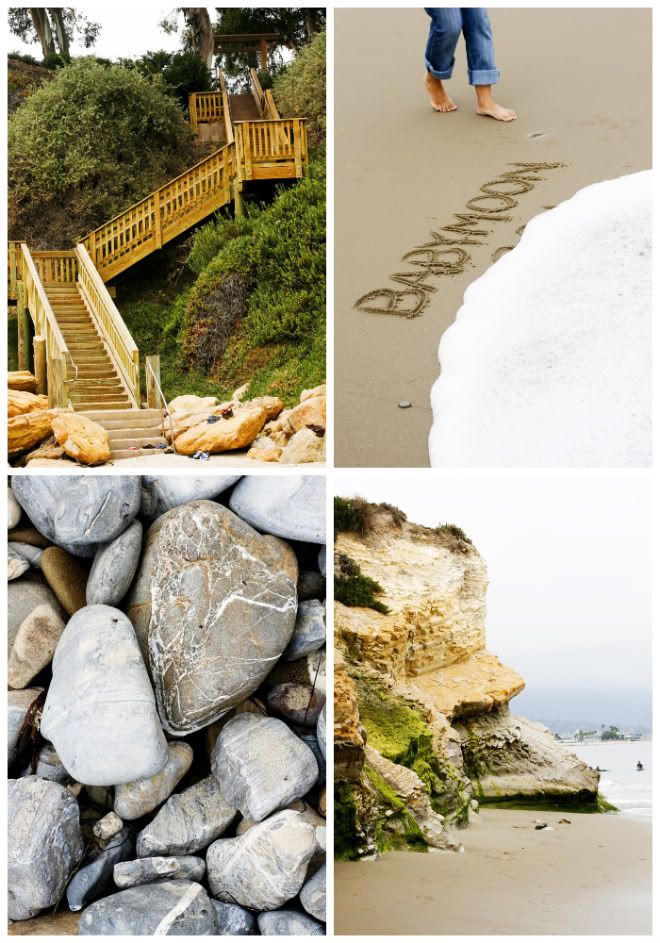 The next day, we made a day trip to visit Santa Monica beach. It was actually a complete accident that we went there. We thought it was Venice Beach but I'm so glad we stopped. It was so much fun, and quite a landmark...the end of Route 66!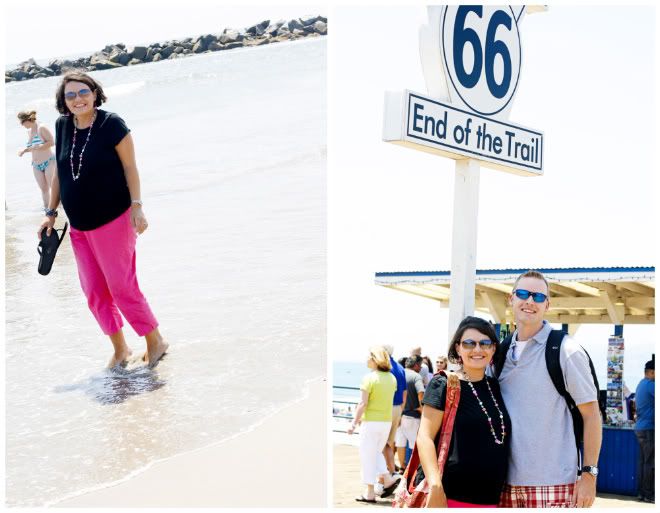 The boardwalk was so pretty with the ferris wheel and the view of the mountains and ocean.
After our pit stop to Santa Monica, we headed to Venice Beach. We were warned, and it's a good thing we were. That was a pretty crazy place! We saw some men flipping over six people...
The waves against the rocks were amazing!
The following day we drove down to our same destination that we went to in May to see Laguna and Newport beaches, and Balboa Island. Crazy enough some friends, the Wakefields, from Dallas were there for their month long stay. They lived there for their first year of marriage but moved back to Texas. Still not sure why they moved but Reid says going back to visit for a month every summer is helping "ease the pain" and keep Emily happy....don't blame them one bit!
After our lunch with the Wakefields, we just sat on the beach for a hour and that's where we both got sunburned. Guess it helps when you don't leave the sunscreen in the car.
And it wouldn't be a complete trip to Laguna without some Casey's cupcakes! It was strawberry for me this time and I think I liked it even more than the cinnamon one last time.
Our trip was wrapping up but we were able to squeeze in seeing my cousin, Scott, and his adorable wife Mayra before we headed to the airport for brunch. It's been 12 years since I've seen my cousin. And there wasn't enough time to catch up on everything we needed to in just a couple short hours. We used up every last second before we had to be at the airport.
But he's coming to Texas hopefully this fall so now we won't let another 12 years go by.
I'm so so so grateful for both sets of grandparents that made this babymoon possible. They split up the days. While I was a worried mess, not that they couldn't do it, but that the boys were behaving.
My favorite text from my father-in-law while on our trip after asking how they were behaving..."sunny to partly cloudy." I'm pretty sure I know who partly cloudy was.
The boys loved every minute of their time with them. They talk about both sets of grandparents still three weeks later and the things they did with them. So just as much as we enjoyed this trip and our time alone before we're a family of FIVE (gulp!) our boys enjoyed making memories with their grandparents.
Looks like it's FORCED FAMILY FUN trips for a loooooooooooong time.