Planner...it really should be my middle name. Andrea Planner McDonald...doesn't exactly roll off the tongue though. I like knowing what to expect. I'm the nerd who has lesson plans done weeks before I actually teach the lesson. When I see an organized closet or office with labels it makes me down right giddy. Not because that's what my closest or office looks like but because it's what I aspire to be.
My life lately though has not gone according to plan...not even close. A pregnancy during the triple digit heat of Texas was definitely not part of my plan. Being a year behind in scrapbooking was not part of my plan. My sister's recent news of her recurrence of breast cancer was certainly not in my plan.
But for the most part, I'm working through this so called "plan" and trying to bring some sort of order to chaos.
At Justin's company Christmas party, he was lucky enough to win a trip for two anywhere in the US, Canada, Mexico, and Carribbean. Because if you don't know, my husband was pretty much born in a bed of clovers with the amount of luck that oozes from his skin. Margaritas were singing my name and crystal clear beaches were in my dreams.
Cue the record scratching.
Then a positive pregnancy test surfaced a few weeks later. There goes that "plan" out the window again.
New plan...stay in the US. We decided to go to Santa Barbara, California. Justin's never been to Cali and I haven't been since I was in the 5th grade so pretty much it was fresh to me too. But in a miscommunication our trip was scheduled to the wrong place and we ended up getting tickets to Santa Ana instead of Santa Barbara! Oops. So fortunately, all was fixed and we somehow were lucky enough to get TWO free trips out of this! See, told ya....bed of clovers, people!
I've got to admit, I didn't even know where Santa Ana was on a map nor did I have any clue what we were doing. Everyone kept asking, "So what are you doing on your trip?" And I would just say, "I have no idea. We're just winging it." But in a place like this, it's not hard to wing it.
And we did.
And I loved it.
Every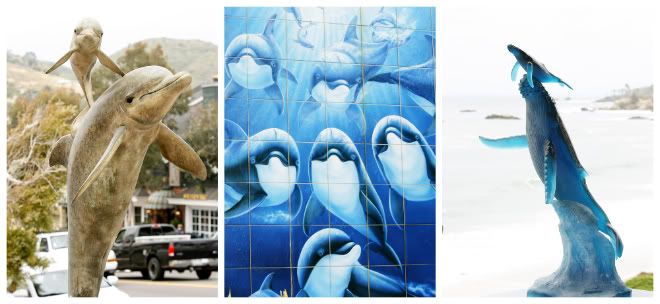 single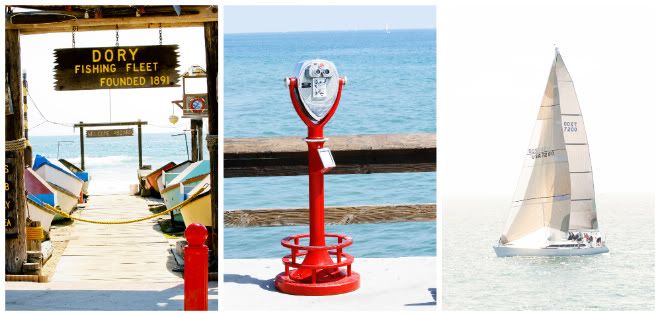 unplanned
moment of it.
The words "so what do you want to do next" haven't come out of our mouths in probably 6 years and I gotta tell ya...we should really say them more. As prepared and planning might make me feel, the feeling of being unstructured was equally as exhilarating especially in a life of schedules, sports practice, games, and meetings.
We fell in love with Laguna Beach. Parts of it reminded me of Europe. Not sure if it was feeling the cool breeze or seeing dogs with their owners eating at cafes outside but it just had that feeling. We have some friends,
Emily and Reid
, that lived there shortly after being married and we just kept wondering what they were thinking moving back to Texas. She gave us all the hot spots to eat and we pretty much did a Wakefield tour of Laguna.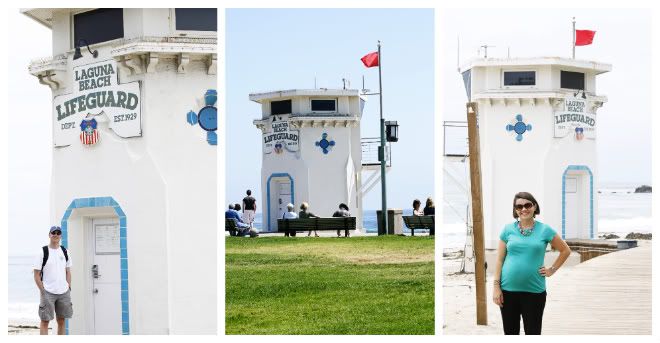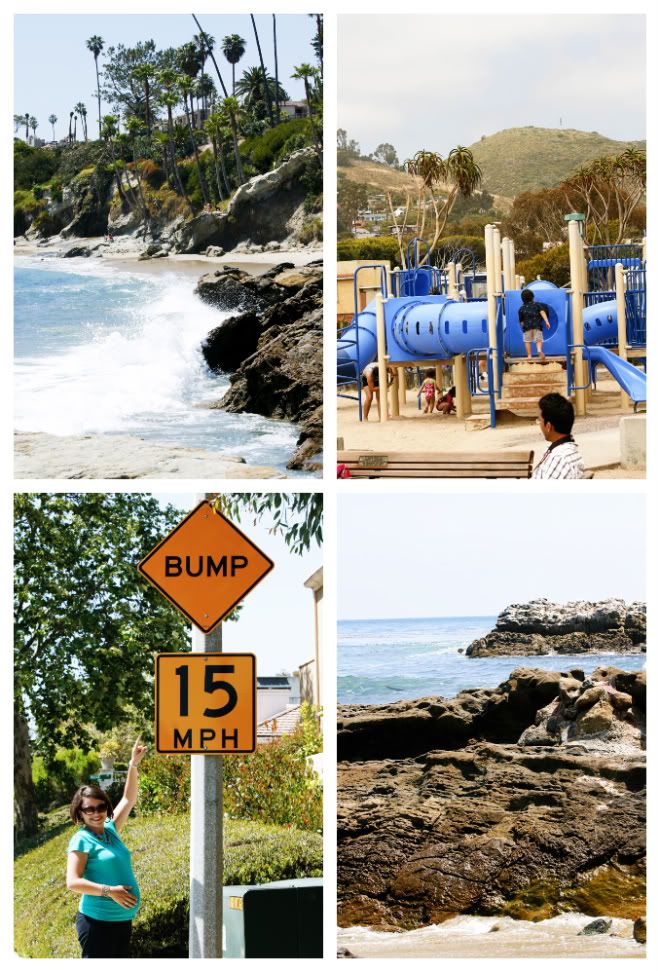 We found this adorable cupcake bakery and in my make-believe life... I'd open one up just like this one. Pink, adorable and I would feel like I was playing "store" every day I opened it. It was something little girls would dream of.
And I swear had there not been all kinds of airport restrictions, I would have brought 2 dozen home with me (if they would have made it home before I ate them).
Newport Beach just miles down the road reminded me of something completely different. It had more of a Nantucket, Massachussets feel. Not that I've actually been to Nantucket, but I've got really good visions in my head and in my little world, it looks just like this.
And they grow bouganvilla there like it's a weed.
There was this universal feeling of being laid back. I mean even the dogs were on surf boards...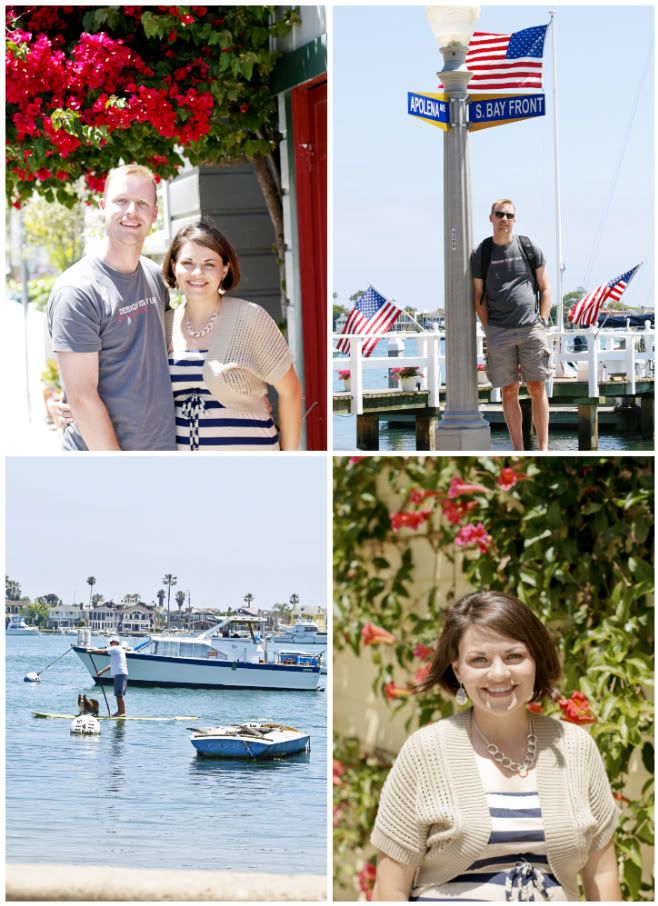 I lost count how many times Justin or I said, "What in the world do these people do for a living?" I know the real estate there is absolutely outrageous but it really made me want to bold enough to just knock on their door and ask.
We got to enjoy our first ever ferry boat by car ride and have the freshest seafood we've ever had.
One of our "what should we do while we're here" conversations with the locals landed us whale watching. While we didn't see any whales, we saw sea lions and tens of dolphins just swimming along with us showing off. I mean we're talking we- could-see-their-blow-hole close.
On our last day, we even squeezed in a short trip to Disneyland. Now before you go thinking how mean we are going to Disneyland without the kids, we only went to Downtown Disney.
The trip was absolutely positively exactly what we needed. We needed sunny skies, feet in the sand, time alone and throwing our schedules out the window. We needed to recharge.