I'm finally catching my breath from the Christmas break. I can definitely say that we used every second for family time. This is the second year in a row that we've gone caroling with our youth group and others from church some of our home-bound members (or just members we can't get enough of) from our church.
It's so easy to get sucked into the insanity of Christmas and forget the true reason and this year was no different than last. It completely put me in the Christmas spirit. As Buddy the Elf says (and he ain't lying) "The best way to spread Christmas cheer is singing loud for all to hear."
Preach it, Buddy.
So we got our recorders fine-tuned, our baby snugli on, and our finest Christmas outfits to belt it out.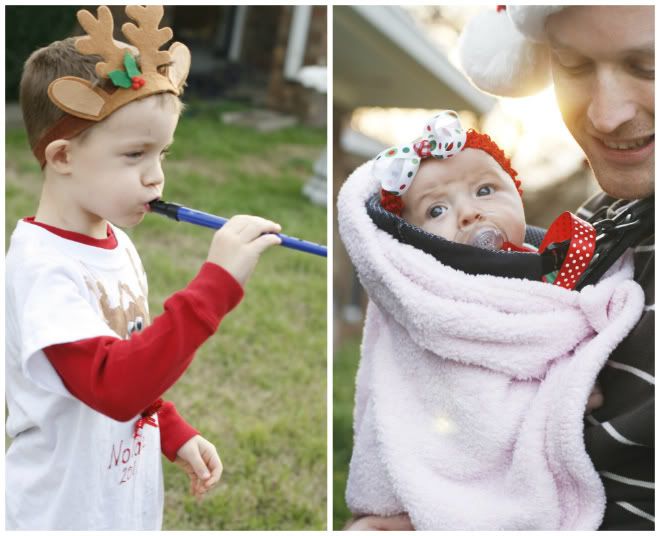 I mean who wouldn't love to see a big group looking this great with cymbals, recorders, and maracas in hand singing "Silent Night?"
We visited some of our sweet friends that joined the church at the same time that we did and either they're really good actors, or we really did make their day.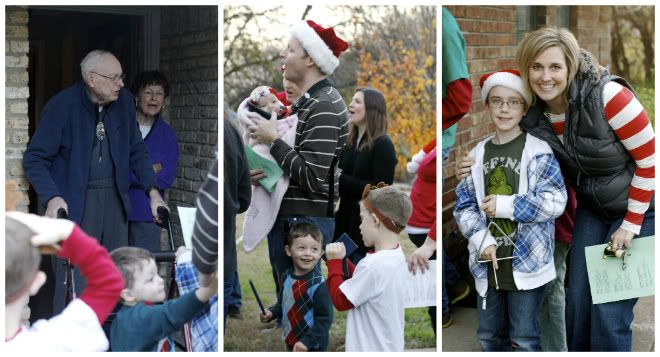 The second home is one I just love to visit. It's so beautifully decorated. I think it may be more of a present to us to see their home rather than our gift of singing!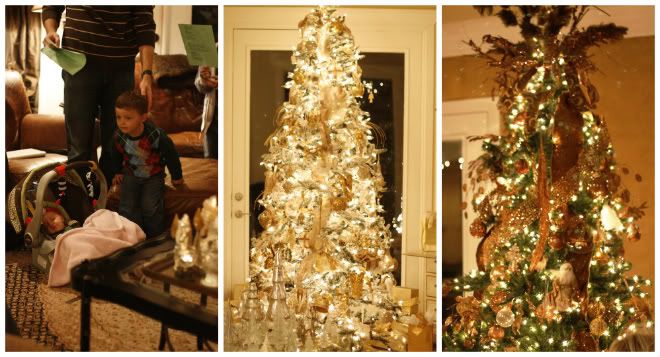 Last, but certainly not least, we visited my favorite church couple. You know, those sweet couples that you see that are never without each other and are always holding hands? And the ones that you picture when you're talking to your spouse about how you want to grow up to be? And the ones that when you see them at church walk by, you can't help but say, "Awwwwwww!"
Yep, that's this couple. I mean, seriously, could they be any stinkin' cuter?
They are like this ALL the time! See, here they go again...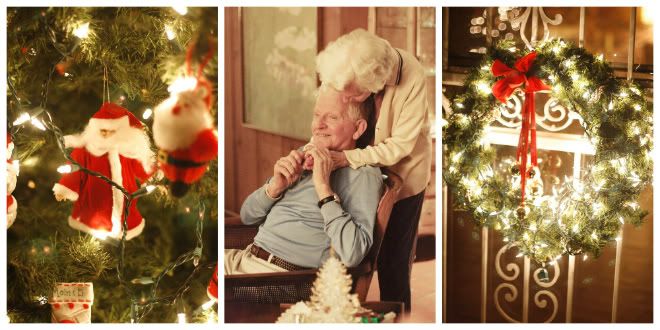 I'd like to say it was all sunshine and lollipops. That we all held hands and skipped as we sang carols but there were also moments that brought up something new our kids were exposed to and a new step to encounter in our parenthood journey.
We made two visits to nursing homes. One of the homes we went to, the people were clapping, playing piano and just oohing and aahing over Landry (they were wise people, if I do say so myself) but another home we visited was on the sadder side. There were hospital beds, wheelchairs and smiles weren't as abundant.
Nolan asked, "Why did those people look so sad and like they were about to die?" His observation is amazing and keen.
Wow. Deep stuff. What do you say to that? Probably not the best time to tell your 6 year old that we are all going to die.
The days and nights that followed were plagued with lots of questions about death and growing old. He kept telling us throughout the day that he didn't want us to grow old and die. Bedtime became quite a struggle, to say the least, for two weeks reassuring him that we're healthy and young. My poor Nolan has dealt with anxiety issues over the years. We've dealt with being afraid of the wind, fireworks, putting his head under water and the list goes on and on and on.
I pray, more than anything, that this experience is one that fills his heart with memories of spreading joy, feeling the spirit and doing for others.