Christmas morning...I can't believe that our kids slept in til 8:30. Actually, I can since they didn't go to bed until 10:30. Sleepy eyes, stuffed animals and goo goo in hand they were ready to see what Santa brought.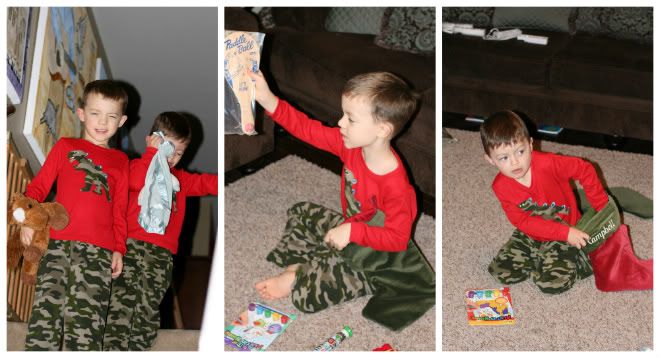 Santa didn't disappoint this year. Nolan got a new bike (without training wheels) from Santa. And I'm proud to say that on our last day of Christmas break that Nolan rode his bike for at least 10 seconds!!! WOOHOO! It's a crash landing every time, but we'll get there.
My favorite part of Christmas morning was opening our gifts from Nolan. Our school put together a Penguin Patch that allowed kids to shop for family members as a fundraiser for PTA. It was beyond adorable how excited he was that he went shopping by himself and it was a secret that he got to keep from us.
I'm not joking when I say that he was more excited about giving us our gift than he was about opening his presents. I absolutely love that about him. It was the first glimpse that I saw that maybe all those lessons about "it's better to give than receive" and "think about others" aren't falling on deaf ears.
He picked the most beautiful amethyst ring. Yes, it turned my finger green within an hour, who cares? It was my favorite gift because he was crazy proud of himself for picking it out.
His gift to Justin was a ornament that said "Dad" and we hung it right in front of our tree. I've come so far wanting my tree to coordinate. I can say that without a doubt that our tree might not have a theme or a color but it is full of memories and love.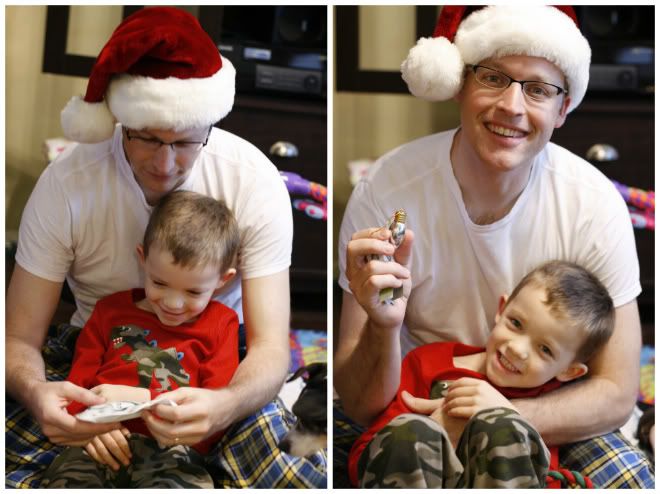 Campbell got a bracelet and I think Nolan was looking for a better reaction, but as we all know...3 year old reactions are usually never in your favor.
Landry was seriously the best sport ever. She sat in her bouncer and was happy as a clam.
I think the poor thing was finally excited to see some pink toys and dolls. Of course that girl got clothes. I don't need Christmas as an excuse to get her more outfits.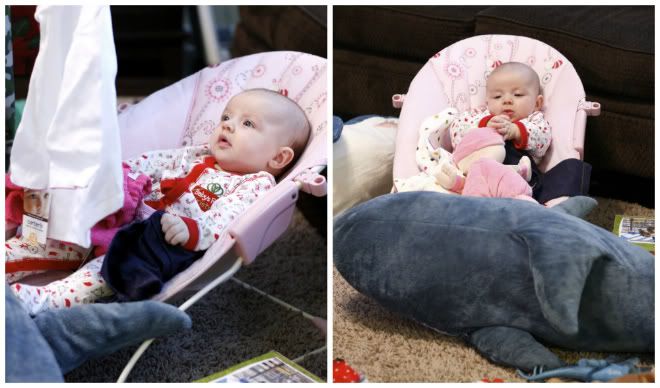 New towels for the boys and seeing them wear these after bath time makes it really hard to resist running after them and kissing them.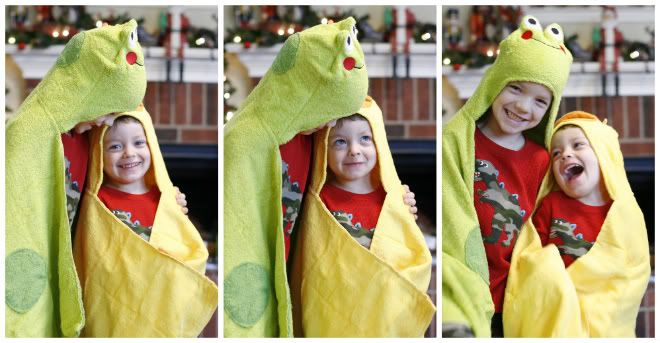 Aaaaaaaaaaaaaand this is the bomb that went off in my living room and that was AFTER picking up some of the wrapping and tissue paper. Notice how after all the gifts were unwrapped and I needed up cleaning up, everyone got really sleepy suddenly.
My grandparents were in town from Amarillo and we spent the entire evening with them and the boys loved showing my grandmother their email from Santa.
My nieces came by the day after for a short visit and Landry was loving all that attention. She's going to love going to see them especially with all these boys in the house.
Christmas Eve and Christmas day were so full of non-stop action but that's how you know you've used every single second to squeeze in as much family time as you possibly can. When you're exhausted, it means you've loved hard.
It was such a great Christmas and believe it or not...there's more! At this rate, I'll finish up my blogging in February but I can't forget about our Christmas in Kentucky.